Winter is tough for us cyclists. Especially, when living in central Europe like Germany, Benelux or the Uk. And with climate change things likely get worse. Cold, rain and muddy roads. Followed by short daylight.
And the windchill effect nibbling on you.
This feeling of being out in the cold and wet with lots of grey in the sky. Its mentally and physically draining. This monster called winter little by little pulling your plug out. But there's light at the end of the tunnel for cyclists: The training camp.
Now, what are the gains of a training camp, how to best achieve it and find the right location ?
Well, that's exactly what you're going to learn in this article.
1. Why You should do a Training Camp as a Cyclist
A training camp abroad yields lots of advantages, especially in winter. Since you have better weather, less traffic and lots of new routes and climbs to try. And it's that time of the year where you're able to shift the focus almost completely to cycling.
You can take 1, 2 or even 3 weeks off work and prevail the winter blues into sun, rolling roads and oh this beautiful stillness.
Just you and your bike, hitting awesome roads. A training camp in winter is like a cycling retreat. It's a great time for self-reflection also. Firtsly, a new and relaxing evironment including the beautiful sea. Secondly, you can commit fully to training longer, harder and working on your nutrition, on and off the bike.
This is exactly what happens in a training camp of pro cyclists. The whole team meets each other to work towards goals of the season. Besides, riders and staff get educated about nutrition and training. As a result, the winter camp is a great way to escape day to day life right into the relief of working deliberately on the goals for your season.
Now, the questions is how can you better plan out your training camp?
How can you combine great routes and scenery with maximum efficiency and effort in training?
Let's check it out.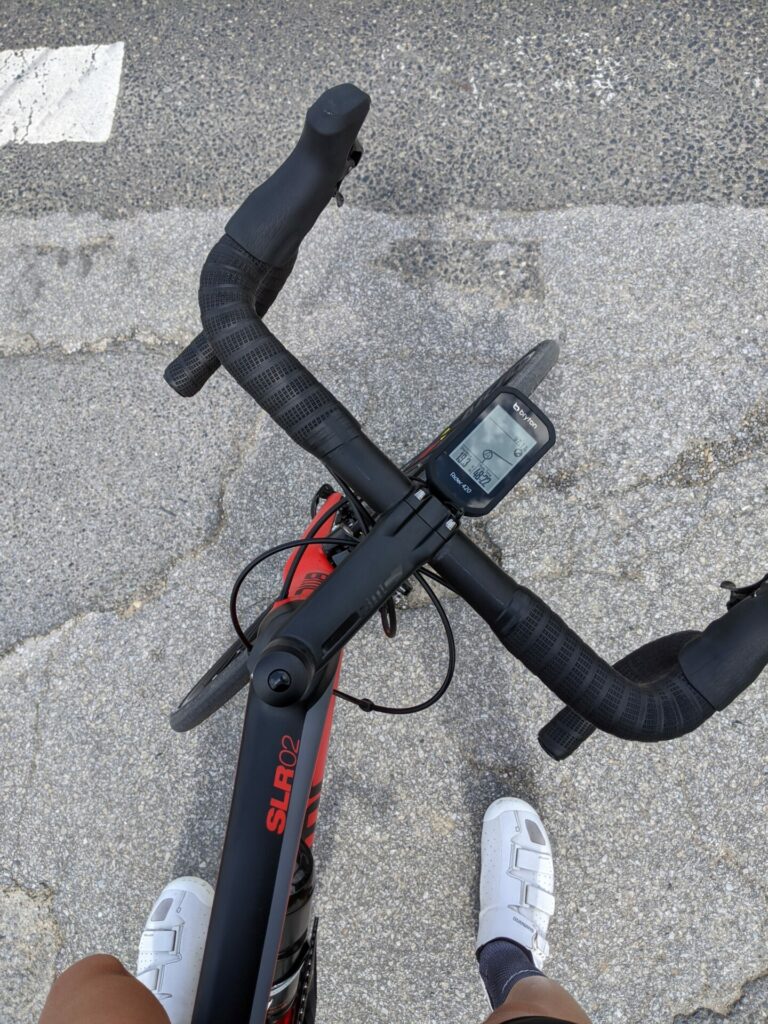 2. Planning your winter training camp
Planning out your training camp with location and routes is crucial. A common problem is underestimating elevation gain and routes. Therefore, your rides become too long and strenuous. Furthermore, you accumulate far more stress than your used to. For a week or more! So, you likely feel weak or even sick, when arriving at home in colder surroundings.
The best way to avoid the upper scenario is planning routes your able to accomplish.
This is done easy with the route planner from komoot. Among benefits you can adjust the route for your current fitness level. Afterwards Komoot suggests the length of the route and its level of difficulty. Komoot does great work with this tool, so it's quite reliable.
Another great thing is the komoot community. Therefore, routes are full of insider tips and hot spots of other cyclists already ridden where you're heading.
Alright, you've done building your route. After that it's time to build your training plan along the route. Because you really want to use the time on your bike as effective as possible. Because you want make the best out of your time.
Firstly, it's important to bring in structure and define clear goals for each training session. Consequently, you want to avoid "junk miles".
I don't mean neglecting the important low intensity riding. Unquestionably you want and need these days during training camp. The goal is clear, indeed: Long slow steady state riding.
However, combining an amazing route with effective training could mean riding uphill at a high pace. Therefore, you'll push hard on the climbs as an interval and use the downhill and flat parts as recovery.
As you can see designing your winter training camp rich in variety and high in effectiveness requires careful planning. But in this way, you're training camp is executed purposefully to reach your goals. So, the problem is how do you find the right location for yourself with great weather, flat route options and amazing roads and scenery?
Here's the solution:
3. The 5 Best Winter Training Camp Destinations for Cyclists in Europe
3.1 Mallorca – Bike Riders Nirvana
Mallorca has established itself as one of the most famous islands for cyclists. Because of many benefits for bike riding. One thing for sure is its amazing consistent climate over the whole year and during winter, indeed. Even though it is fresher in January and February (~ 12-15 degrees on average) the weather is pretty consistent. That makes for lots of great rides.
For that matter many pro cyclists attend training camps during winter time. Even racing takes place in January already with the Mallorca challenge. On the one hand you can detain your training camp and enjoy Mallorca at its best, on the other hand you see your heroes down the road.
In addition, Mallorca is easily accessible. Flights come in from more than 30 countries these days. No matter if UK or central Europe your plane usually needs around 2,5 hours to the island of cycling. Furthermore, the airport yields different transfer options like bus or taxi. The capital Palma is within reach. For transfers to the north like Alcudia it will take around an hour.
Check out the airport of Palma for more information.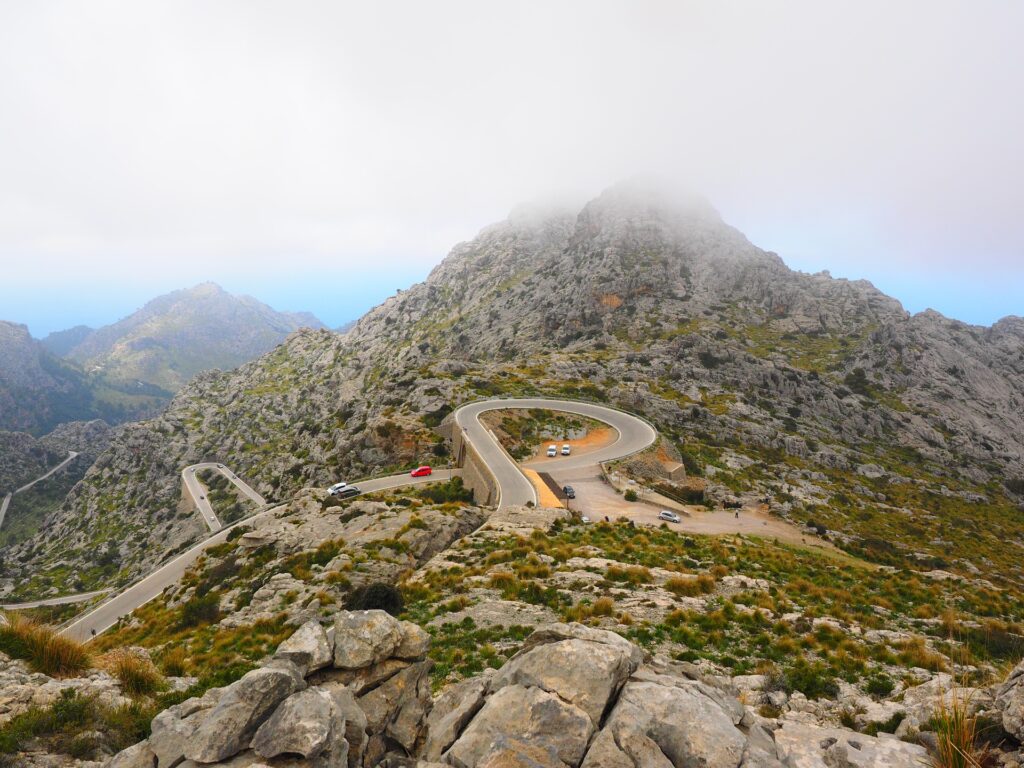 Moreover, Mallorca has awesome topography and roads. As a result choices for riding are diverse. In this case even lots of gravel roads excist. But especially in the north of the island, with the Serra De Tramuntana, roads and landscape meet their best. Since the nature reserve serves you with incredible climbs like Puig Major, Coll De Soller, the mystical Sa Calobra and the Cap Formentor.
The roads winding up themselves up the climbs in marvelous fashion. Because Majorcans didn't just build routes, they've created art. If you're based around Alcudia this is the way to go. The mountains are also reachable from near palma though.
In the south of the island around Andratx you'll find amazing scenery as well. The climbs may not be as long as the magic four, but you can ride along the coast with beautiful up and downs. But don't be fooled as you collect lots of altitude along the way!
Another advantage you have on the island is your choice of gaining elevation or going pancake flat in the south. That's great for recovery rides and low-intensity sessions. Or you just want it easier because training camps are difficult anyways.
It's in the south as well, where you'll find the epic Randa climb.
The climb is easier and shorter, and you can align it greatly to your flat ride. Additionally, you shouldn't worry about sleep and food. No matter your preferences you'll find cycling friendly hosts and hotels on almost every corner.
All in all, Mallorca is the way to go if you enjoy cooler weather and thrive in the beauty of versatility. With lots of gravel roads, epic climbs, flat coasting, cycling culture and cafes in combination with pothole free roads and a nature rich in diversity.
For more information check out tourism Mallorca.
Anyways, do you hear the rumors about a city taken over by cyclists? It's real! It's as true as Insectopia in the film Antz.
Stay tuned.
3.2 Girona – The City of Cycling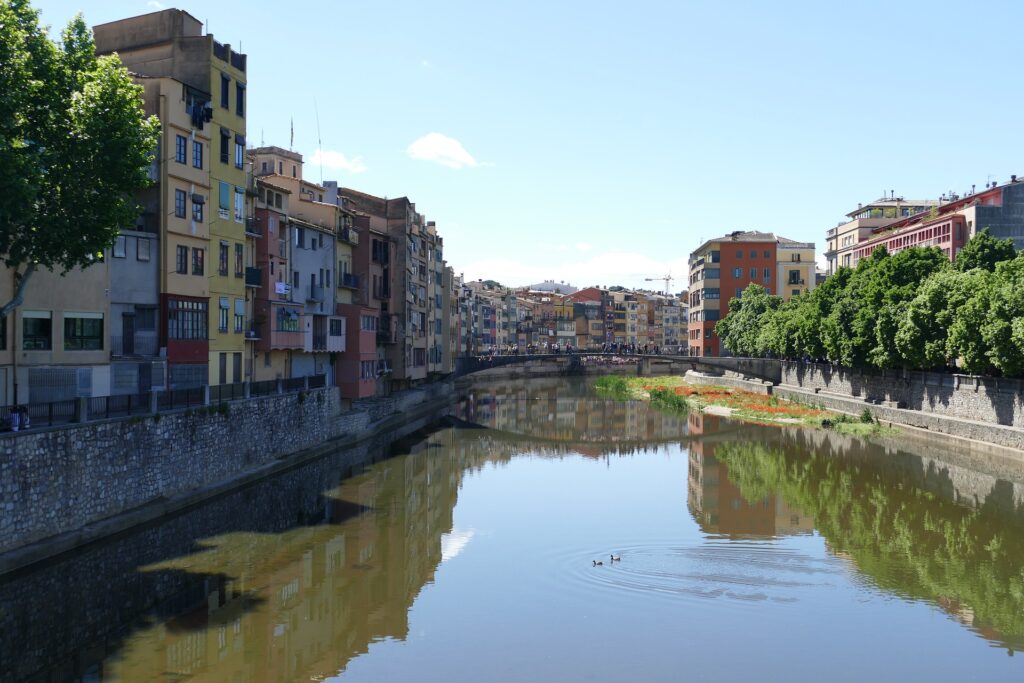 Girona is based around 99km north-east of Barcelona.
In between the city gates of Girona, a metamorphosis has occurred over the years that may have changed life in Girona forever. Skinny creatures with tan lines on arms and legs so clear you hear them shouting "we are part of a very proud species" slowly took over the city.
Yes, you've read just right. Many professional cyclists proclaimed Girona their home base.
The benefits are perfectly obvious. The international airport of Barcelona is great for non-european cyclists and race travel in general. The Spanish sun does a great job all year long and works hard during winter.
Besides, there's a second airport option: The Girona-Costa Brava airports offers lots of flights for intra-european traffic. And the good thing: The airport is only 10 km from City centre.
Moreover, Gironas special interior location provides awesome roads:
From the precursors of the Pyrenees to the beautiful Costa Brava known for the incomparable beauty of bathing in the sea. Girona has it all. The versatility of the region around Girona is elusive. Head towards the Pyrenees and you may find yourself in snow. Reach for the Costa Brava and ride in inconceivable nature and roads along the coast.
With lots of gravel roads your offroad adventure has no limits in spain.
Also you will feel the comfort of being a guest in spain immediately. And with the Spanish flow your training camp will turn from a serious cyclist into a holiday. With the added relaxation you can squeeze out every bit of energy on your rides. Due to all the different climbs and routes around Girona riding can't get boring. Even the climbs push you forward. It feels smooth and rolling up the roads with lots of variation.
Not that typical climb that's trying to pull you down.
And you're in Spain meaning you'll have potable water stations along the routes to refill bottles. That's a big plus. Because stay hydrated or you'll find yourself on the roadside faster than you say tranquil.
Accordingly, during rides make sure to do a coffee stop if preferred. Because coffee stops aid in variation to refuel, so you prevent hitting the wall. Surrounding city's like Banyoles provide a great opportunity. It's close to Girona and has a beautiful lake. I like to finish the bulk of my ride before a stop, so I know it's not that far home.
And what's better after a hard ride on epic roads than sitting in a café at the lake with your favorite cake or some Spanish tapas?
Ok. Maybe two coffees and two cakes … anyways you get the point.
Back in Girona you'll notice lots of beautiful cafes held by pro-cyclists or other pro athletes. It's a good opportunity to replenish energy stores after your days ride and meet other ambitious cyclists. Plenty of restaurants offer fresh fish or traditional Spanish tapas. And even unpacked stores made its way to Girona.
If you're an advocate for healthy eating and lots of vegan options as I am, try out la comuna café and residence from pro triathletes and legends Jan and Emma Frodeno.
They even have vegan gluten free donuts cause free the donut. And to be honest, who doesn't love fresh donuts? If you want to enjoy their awesome stuff every day you can stay in their la comuna residence for the duration of your training camp as well.
For more information about the region check out Costa Brava Tourism and Catalonia Tourism.
You should call Girona your winter training camp if you're looking for the ultimate cycling experience. Awesome landscapes, Spanish culture, healthy foods, even cycling guidance for a beginner's camp. Girona serves your purpose.
Now, it's time for us to say goodbye to amazing Girona. We pack our bags and drive down south, along the coast to our next destination.
You've probably guessed it already.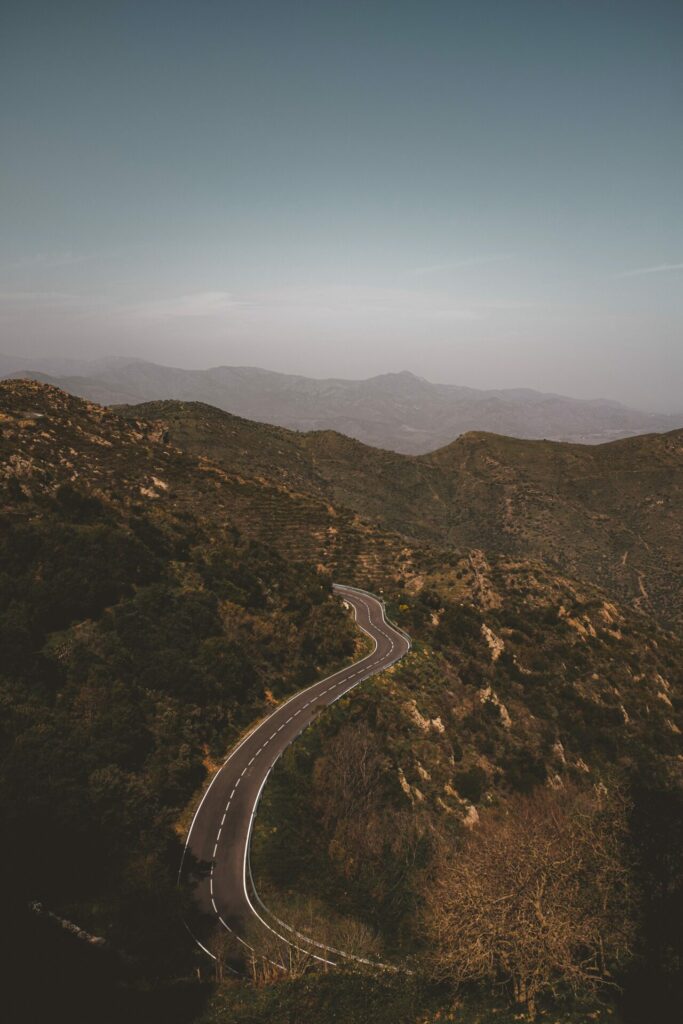 3.3 Cycling in Calpe
As we've left the marvelous Costa Brava our next destination is found along the Spanish coast. Filled with sandy beaches and more than 300 sunny days a year, Calpe located amid the Costa Blanca, didn't disappoint any cyclist.
It's not by chance that pro cycling teams established their winter training camp routine in Calpe. I mean Calpe scores with lots of quiet roads, the road surface does an amazing job and with the stunning mountain scenery you have it all.
Moreover, the sparkling Spanish sea helps you escaping winter blues and turns your training camp into refreshing cycling holidays. You end your ride, sitting in a café next to the beach just listening to the sound of sea. Wave after wave coming in smoothly, helping you recharge for another hard day. Keeps me daydreaming about Calpe …
Anyways, Calpe can be reached through the Aeropuerto de Alicante. The transfer over the national road will take around an hour. Flights from Europe to Alicante last roughly 2,5 hours. That's a total of 3,5 hours transfer pretty solid, I think.
Housing in Calpe as well as around like Altea exists in abundance. The same is true for bike rentals as Calpe and Altea hoard great rental services.
If you're a supporter of buses and trucks clothed in brands and sponsors the cycling hotel cap negret could give you on the spot experience. With a big parking area, the hotel was filled with lots of pro cycling teams from Arkea Samsic to Quickstep Alpha Vinyl in January.
Now from a riding perspective Calpe and its environs is made for climbing. With the flatter coast roads being busy and filled with touristic traffic, you're searching in vain for quietness. As a result Team DSM has established their training camp routine in Calpe. It just offers on the point conditions for most pro cycling teams.
But you've got the climbs here to escape. And with the vegetation being thin up the climbs, this area is predestined for unforgettable panorama views along your training rides. If you need extra motivation to gain elevation you'll receive it through the Spanish landscape and sea.
Calpe is the place to be for you winter training camp if you want to work hard on your bike while having holiday at the same time. Awesome climbs, quiet roads, comforting accommodation and nourishing Spanish food.
All refined with the Costa Blanca sandy beaches and its splendid sea.
For more content take a look at Costa Blanca Tourism.
It's time for us to say goodbye to Spain and all its amazing sights. We'll travel north-east to meet its friendly neighbour.
Any idea?
I'll give you a hint: It didn't have its best start with cyclists, when pro riders rather detain a slide contest than a race.
However, our next location is worth to be considered a cycling paradise.
So don't stop reading.
3.4 Nice – Cycling Paradise
I'm talking about Nice. No not the trendy word, its close relative: Nice the city of sunshine in France along the famous Cote d'Azur.
Even though cycling and Nice didn't have the best start together, I think we can agree on blaming Covid for this reason. You can also blame Covid for your poor race or training results (it may help in short term). Anyways, there might be 100 good reasons to choose Nice as your training camp destination for Winter. But I think a few will be enough.
Let's start with the fundamentals: Nice is easily accessible with its own airport that is reachable from more than 30 different countries, including non-europe ones. Even travelling by train only takes about 6 hours from Paris. Congratulations, you have the unique opportunity to take on your own Paris-Nice.
Now, what's great is Nice's infrastructure with trains and more. You even have a route directly to the old harbour. There you'll find the famous café du cycliste, perfect to settle with a first coffee stop and enjoy cycling culture.
Another key point is that the Cote d'Azur is very famous for its flourishing cycling culture. Many pros call the close kingdom Monaco their home base. Meeting pro cyclists like superstar Tadej Pogacar is real. Nice and surroundings like Villefranche-sur-Mer or Beaulieu-sur-Mer offer awesome route conditions.
Choices are almost unlimited.
Easy, steady coasting towards the border of Italy is done relatively quick. And the epic city of San Remo is only about 50km away from outer Nice. Imagine perfect French sun and sea, seeing your idols down the road and additionally a coffee stop in San Remo.
Tell me a more perfect bike ride!
If you need challenges, you can have them on all the epic Hors Categorie Climbs that bear their pride around the Cote d'Azur. In my opinion, I recommend staying in outer parts of Nice as mentioned already. The infrastructure in Nice is great though. Areas like Beaulieu sur Mer are within reach by train.
And as you're outside the city traffic you can start your rides uninterrupted.
As I have shown Nice is the location to shoot for if you're in love with French culture. How to better fuel than with a fresh French croissant or baguette avec fraise? Nice has it all: flats, artful climbs, professional cyclists, epic city's telling the history of bicycle and many more.
For more information about the Cote d'Azur and Nice check out their tourism institution.
Alright, for our last destination we need to leave the mainland. It will take us to the furthest location on our list. An island with its main resident so formidable, you'll feel humbled by the sheer sight of it.
Tenerife is awaiting.
What makes this canary island so special that it's probably better than its siblings for cycling?
3.5 Tenerife – Origin of the Mountain Goat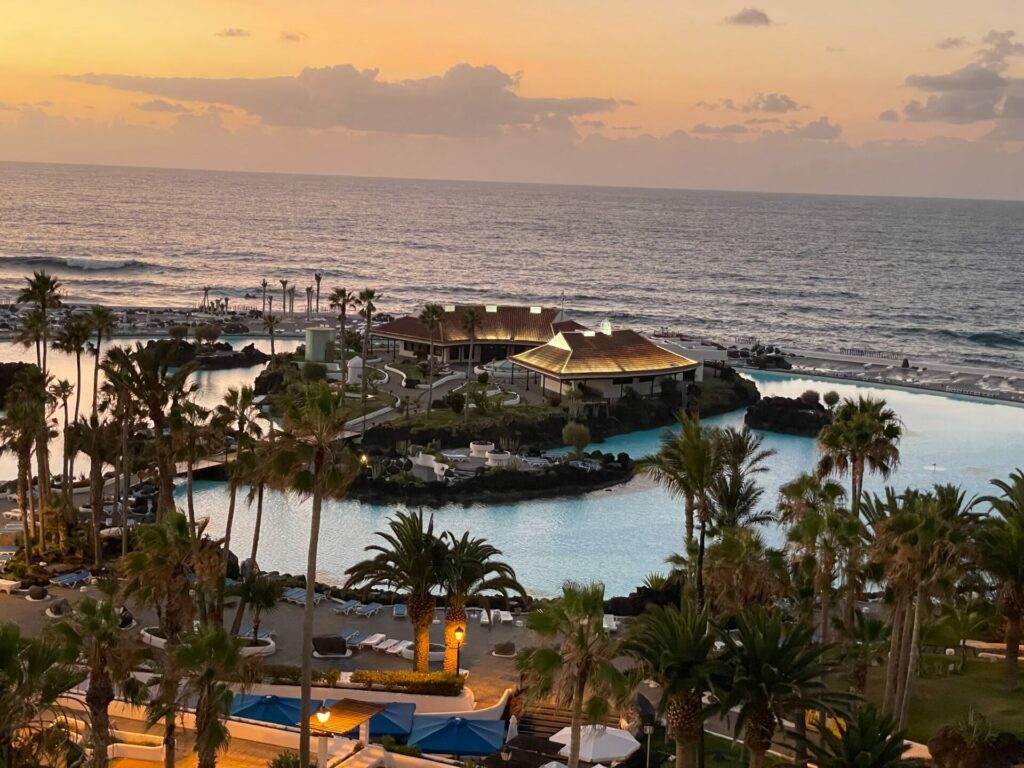 It's likely no accident that lots of past Tour de France winners were made on the iconic island of Tenerife. Many pro cyclists call Tenerife "the best place to ride your bike".
There is the talk of great road safety. And if you feel safe, you can ride better and faster. Easy. So, what makes Tenerife so outstanding is the epic volcano that impresses the island heavily. The Mount Teide is about 3715 metres high. Therefore, Spain's highest territorial mountain.
In addition, when you climb up Gran Canarias highest mountain the Pico de las Nieves, you can see the Teide outstanding and get fascinated by its appeal (see pics below). To clarify, the last eruption took its toll in 1909 though. And the big boy sleeps since. No worries here.
Some dudes even had the idea to build a hotel on the Mount Teide at a height of 2150 metres. That's perfect for every pro to call the Mount Teide their base training camp. But evidence on altitude training is still controversial. You likely don't get the gains you expect. It remains territory for the pros. Just stay at sea level and enjoy Tenerife's sandy beaches.
In general, the weather on the biggest of the Canary Islands is pretty boring. Just 365 days of sunshine. I mean come on. If you're a cyclist tell me about a better destination for your winter training camp.
Perhaps it equals out the 365 days of shitty weather in your country.
And luckily, Tenerife has good connections. The island maintains two international airports. The airport south forms the bigger airport. The airport north the smaller one. Planes come in from across Europe. Flight times from central Europe differ on average from 4-6 hours or more. Therefore, it's the longest trip of all locations.
Most importantly, you better pack your climbing legs. Tenerife itself is a climb. You may even train to be fit enough for the Island of the Mountain Goat. Because the roads are awesome, so excuse number 17 isn't valid here: Blaming bad roads for not moving forward.
And you can't blame the prices on the Island either. From bike rentals to food, to accommodation, Tenerife backs you up. With a broad offer of activities, you can't get bored on the island. You can even bring your kids. An awesome water park, great beaches, golf or shopping all transition your training camp into the ultimate cycling holiday.
For more information check out Tenerife tourism.
If you want an awesome cycling experience with probably the greatest climb in Europe, just more tropical, shoot for Tenerife.
You will recharge your batteries fast with on the point weather and lots of different opportunities. Great and healthy food, fresh fruit from the island all aid in creating an unforgettable training camp.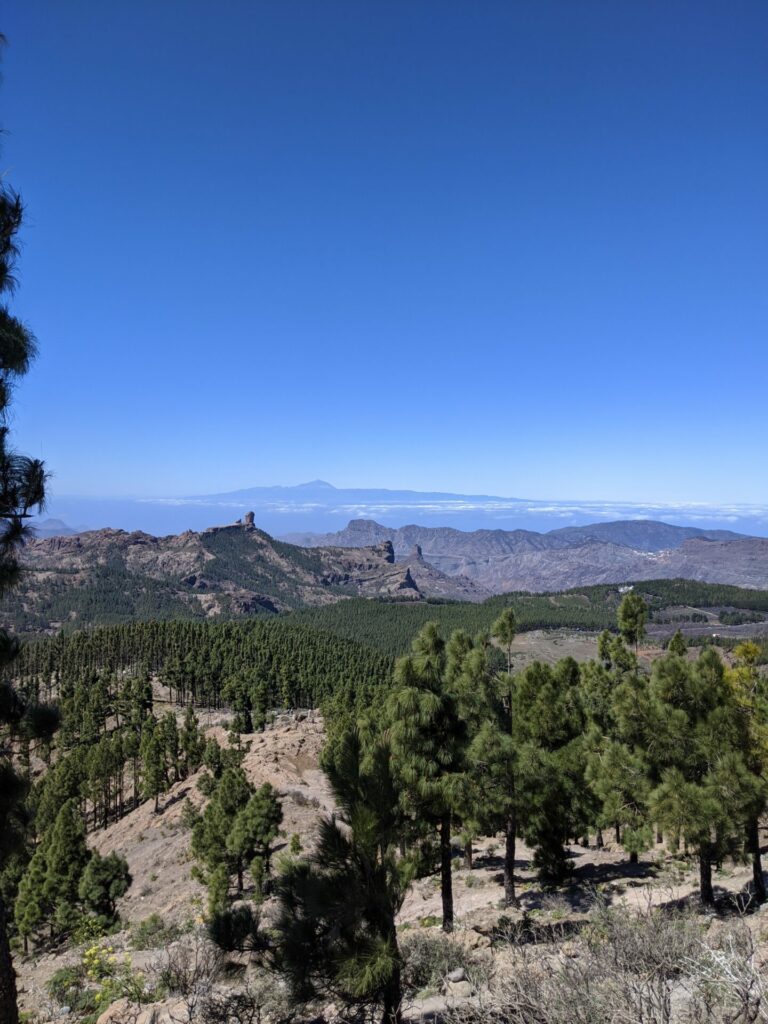 4. Conclusion
There you have it.
5 epic cycling destinations to select from. All of them will help you prevail winter and prepare for an outstanding season. In conclusion, if done right a training camp during winter can ensure a strong bump in fitness. It's definetely worth to consider.
Therefore, choose the location that suits you best.
Hopefully, this guide helps you to master your training camp and help you excel in cycling.
If you've done your training camp and are ready to race check out my article about a successful pre race week.
Footnotes
https://www.komoot.com/plan/@51.1855000,6.9491000,9.000z
https://www.aena.es/en/palma-de-mallorca.html
http://www.infomallorca.net/index.php
https://en.costabrava.org/
https://www.catalunya.com/?language=en
http://www.costablanca.org/Eng
https://en.hotelcapnegret.es/?_gl=1*1j5h9h1*_ga*MTUxMzQzODkyNy4xNjQ0MjIxNDIw*_ga_S2G5SMP7N7*MTY0NTAwNjEyMi4xLjAuMTY0NTAwNjEyNS4w&_ga=2.65997801.614880846.1645006123-1513438927.1644221420
https://www.cafeducycliste.com/de_de/la-gazette/nice-store/
https://www.explorenicecotedazur.com/en/
https://www.webtenerife.co.uk/?_ga=2.87827674.370553173.1645014715-174458822.1645014715