Tadej Pogačar is one of the best, if not the best pro cyclist in the world. But he is not the prodigy you think he is. He is not the Remco Evenepoel, who took over the world of cycling within a glimpse of the eye. He is not the top-notcher, who made it look easy like an eagle hovering over the earth so light-footed. 
No, Pogačar worked for it. Pogačar evolved into a world-class pro cyclist. But how do you become a pro cyclist? How do you train like a pro cyclist? What should a pro cyclists training plan look like and what can we learn?

Luckily, a review article tried to answer this particular question. But before we talk about it, let's talk about Pogačar's junior years and rise as a U23 cyclist.
Pogacar's Bumpy Junior Years
Saying that Pogačar was a bad junior rider is an understatement. But as I've already said, he had no head start. 
His first attempt at the junior world championships ended with a DNF, and apart from an 8th place GC in a nation cup, there was nothing special about his first year as a junior. Moreover, just looking at his first year as a junior, you could convince no one at the time that this dude will win his first Tour de France in just 5 years.
However, Pogačar seems like he always had the mental ability to see failure as part of the process. To see failure as part of making you a faster cyclist.

He improved in his second junior year and scored his first international stage race victory. 
But the rise of Tadej Pogačar came in his years as a U23 rider.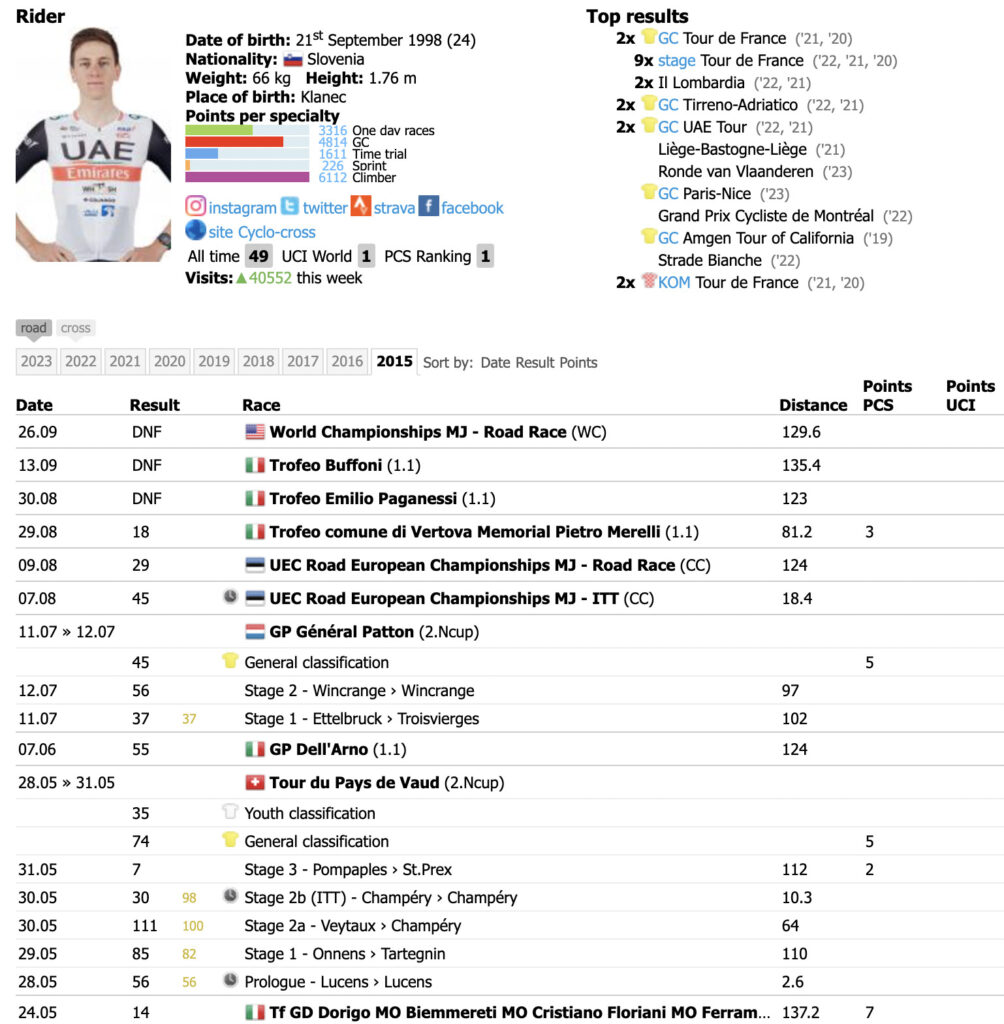 The Rise of Tadej Pogacar
When you look at Pogačar's training and racing today, one thing that stands out is his remarkable work ethic.
It looks like he worked his ass off to be as fit as possible in his first U23 year. Likely, aging also boosts his performance while growing out of the junior ranks. Altogether, he landed several top 10 GC results at important U23 races and even managed a 7th place in the Piccolo Lombardia (the U23 Lombardia).
With this solid base of results and resilience in the bag, Pogačar sealed his Tour de l'Avenir victory in his second year as a U23 cyclist. If you're unaware, the Tour de l'Avenir is the most important U23 race, seen as the "mini" Tour de France. Winning this stage race and not signing a World Tour contract is one of nature's impossibilities. 
And so did Pogačar as he signed with his current team UAE Emirates. 
So, one thing is for sure, you need very solid development in your U23 years if you want to step up into the pro ranks.
Now, what is the best way to train to become a pro cyclist, to have these strong U23 years?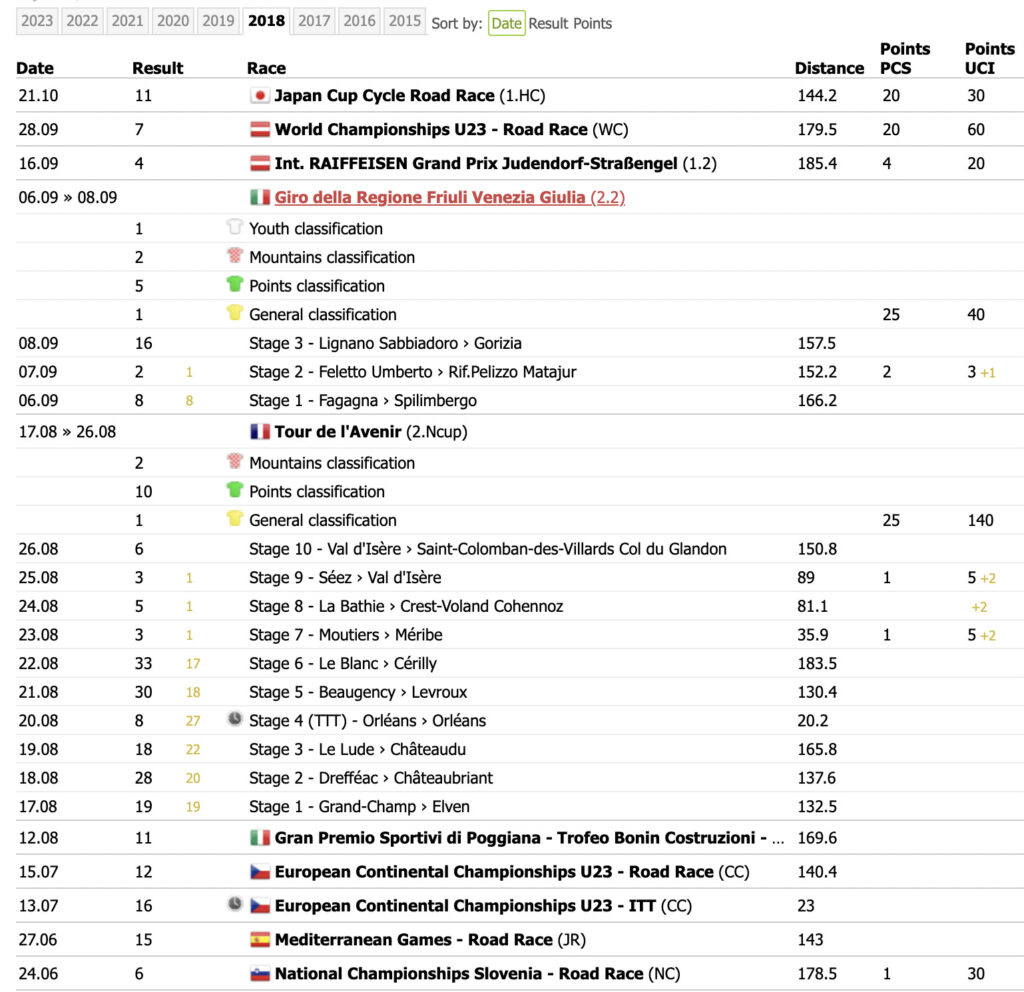 How to Train Properly to Become a Pro Cyclist
As talked about above a research article from Stöggl wanted to bring light into the darkness of professional endurance training.
To investigate this question, researchers use retrospective analysis, where scientists keep track of pro athletes training, without telling them what to do. But why don't pro cyclists take part in experimental designs? Well, pro cyclists don't like studies because they need to change their daily routine and don't know if a training intervention might harm their performance. However, a retrospective study gives a solid overview of what the best endurance athletes in the world do.
The scientific literature uses only 3 zones to distribute intensity. Zone 1 relates to the low-intensity easy pace that you can ride all day long (zone 2 in a 6-zone model). Zone 2 is medium intensity between lactate thresholds 1 and 2. And Zone 3 is high-intensity where most athletes can only spend about 15-30 minutes before fatiguing. 
Therefore, you can do a lot of training in Zone 1 because it's a very sustainable pace. 
How Do the Best Endurance Athletes in the World Really Train
Scientists studied the training intensity distributions (TID) that professional athletes commonly use and found a pattern.
During a training year, pro athletes use high-volume-low-intensity training in the preparation phase (for most cyclists during Winter). Afterward, they switch to a pyramidal TID in the pre-competition phase. And finally, use a polarized TID across the competition phase. 
This pattern is familiar with the one a lot of pro cyclists follow. Big base mile weeks with very voluminous training hours of 25-30 per week during the off-season.
However, due to recent studies, the HVLIT-TID seems discarded like the toys from Toy Story in an ever-fading world. Ronnesstad and colleagues, for example, found a clear difference in performance in the pre-competition phase, when cyclists did just 1 high-intensity session every 7-10 days during the transition phase (for most of us October through December). 
Consequently, Zone 1 training is only as successful as its antipole: Zone 3 training.
Polarized Training Always Wins
Within all the experimental studies the polarized group always came out first in improving endurance performance.
One explanation as to why polarized training is so successful is muscle contraction. While low-intensity favors repeated muscle contraction of enduring type 1 fibers to increase lactate clearance, high intensity produces high-energy contractions and triggers the nervous system and the heart.
In order to build durability (fatigue resistance), one key factor for becoming a successful pro cyclist, you need a big volume of Zone 1 training to build that repeatability of high-intensity efforts required to win a race. 
But again, other recent experimental research shows that a pyramidal TID and a polarized TID both work almost equally to improve endurance performance. Nonetheless, it's all about how you measure TID. But with all the studies done one thing is for sure. You can only do as much high-intensity before you crack. Put differently, two HIT sessions per week are sufficient to deliver the necessary stimulus, while more can hurt your performance. 
Pogacar's Training Intensity Distribution
How does all the research apply to Pogačar? Well, his coach Dr. San Millan is known for his emphasis on Zone 2 training (Zone 1 in the literature). However, we also know from Pogačar's Strava files that he smashes serious K.O.M.'s. 
So, to me, it looks like Pogačar gets a decent TID with most of his training done easily. In that case, he stays as fit as possible but also places himself as fresh as possible at the start. 
If we look at his development over the years, his recent Ronde van Vlaanderen performance underlines his increase in durability. Because attacking after almost 6 hours on the bike is only manageable with an incredible fatigue resistance.
How to Become a Pro Cyclist: The Summary
To become a World Tour Pro you need a proper training schedule. Of course, other factors such as nutrition, determination, and resilience all play a role, but training is one thing you can control and you can practice day in and day out.
So, to increase your odds of becoming a pro cyclist follow a pyramidal or polarized TID and make Zone 1 training the bulk of your training. Train a reasonable volume of hours and do 2 or on occasion 3 high-intensity sessions per week to get faster and stronger.
Eventually, by applying basic scientific principles you can increase your endurance performance and durability to higher your odds of becoming a pro cyclist.
Ready to Train Like a Pro Cyclist?
If you enjoyed this and you want to become a faster cyclist, check out my structured training plans. Since I bridge the gap between the scientific community and the greater community of cyclists I provide you with full-on training plans that target the fundamentals of endurance performance. Enjoy!
Get The Newsletter
Receive pragmatic cycling advice, great ideas, and inspiring stories that will make you a better athlete delivered to your inbox each week.
Studies used in this article